Broken
Redemption # 1
By: Lauren Layne
Releasing September 2nd, 2014
Loveswept
Lauren Layne's New Adult novel tells the story of a girl with secrets, a guy with scars, and a love that could save them both… or destroy them.
When Olivia Middleton abandons the glamour of Park Avenue for a remote, coastal town in Maine, everyone assumes she's being the kind do-gooder she's always been. But Olivia has a secret: helping an injured war veteran reenter society isn't about charity—it's about penance. Only, Olivia's client isn't the grateful elderly man she's expecting. Instead, he's a brooding twenty-four-year-old who has no intention of being Olivia's path to redemption . . . and whose smoldering gaze and forbidden touch might be her undoing.
Paul Langdon doesn't need a mirror to show him he's no longer the hotshot quarterback he was before the war. He knows he's ugly—inside and out. He'll do anything to stay in self-imposed exile, even accept his father's ultimatum that Paul tolerate the newest caretaker for three months or lose his inheritance. But Paul doesn't count on the beautiful twenty-two-year-old who makes him long for things that he can never have. And the more she slips past his defenses, the more keeping his distance is impossible.
Now Paul and Olivia have to decide: Will they help each other heal? Or are they forever broken?
"Two completely shattered souls doing a weird approach-and-recoil dance around each other."
Yup that quote pretty much sums it up.
Olivia Middleton is running from her problems in NYC.  After destroying her relationship, and dropping out of NYU.  Olivia accepts an offer to move to Bar Harbor, Maine to care for an injured war veteran.  Assuming she is going to tend to an older man, she is shocked when Paul Langdon turns out to be everything she wasn't expecting.
Paul Langdon is hiding, away from the world, away from his problems.  Living in his family's summer home in Maine, Paul's days are filled with bourbon and books.  After successfully chasing off several caretakers, the Senior Langdon pulls off a last ditch effort to help his son live some semblance of a normal life. What Paul doesn't realize is just how much Olivia could help him if he just let her in.  With his father threatening to cut off his funding, Paul has to find a way to keep Olivia around long enough to collect on his inheritance.
Paul is a super alpha male, angry at the world, and pissed off that his father would send Olivia to tend to him.  She is beautiful, funny, smart, everything in a women he would have dated "before" his life was turned upside down. He tries everything at first to get her to run including a very passionate kiss that knocks Olivia on her knees.  And so it begins…the dance…
"There's a dull roar in my ears.  Oh my God, This isn't happening." I am not being flat out rejected by the guy I just let finger me.">
Olivia puts on a tough girl exterior and does her best to nuzzle her way into Paul's life, she inserts herself into his everyday life uninvited, joins him on his daily activities, barters for information, all in the effort to help heal Paul.  As much as Paul does want to let her in, fear and self-deprecation have forced him to build a wall of boulders around him.
"There has to be a human being left under the cold savage.  I just don't know how to reach him…yet."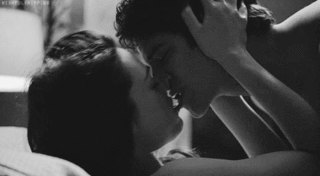 "I want to lose myself in her."
~~~~~~~~~~
I really loved this book, it was very fast paced, the storyline was strong, and it invoked so many emotions in me.  One minute I would feeling like things were finally going to head in one direction and <b><i>BAM</b></i> I would be hit something that would knock me back and have me gasping to catch my breathe.  The characters were easy to relate to, although it would have been a solid 5 star read for me if Olivia's back story was just a bit more detailed and realistic.  Her reasoning for running didn't feel serious enough for me to drop out of school and flee her life in NYC.
"You made me whole.  You took a wretched, broken soul and showed him how to take his life back." le sigh
More times then not I wanted to just slap Paul, but I could totally relate to him at the same time.  After the things he had seen in the war-zone, I felt his emotions were justified, but his behavior to push Olivia way would really piss me off, in a good way, if that makes sense.  Fear of rejection, especially in his physical condition, made it much easier to understand Paul.
Overall, this is a great read, I would highly recommend it.  There is some very descriptive sexual scenes, but nothing over the top. 
"So what is it?" I ask, tentatively sitting in the chair across from his even though I'm uninvited and clearly unwelcome. I study him. Paul has just a bit more stubble than he did yesterday. Normally I prefer a clean-cut guy, but this slightly rough look really, really suits his golden-boy-meets-jaded-war-hero vibe. I wait for him to look at me, mentally bracing myself for the shock of it.

As though he's sensed my thoughts, his gray eyes flick to mine, and I'm not sure why I thought bracing for it would make a damned bit of difference. It still sends ripples of want from my eyelashes right down to my toes.

"What is what?" he asks.

It takes me a moment to realize that I asked him a question. "The precious liquor I threw out. What is it?"

His eyes flicker in irritation and I think he's going to tell me to get the hell out, but something seems to stop him, and he very slowly lifts the crystal glass from the table and hands it to me.

I sniff. "Scotch."

He nods. "A thirty-year-old Highland Park. Not the best we have, but not something to be tossed down the drain, either."

"Very alpha."

He rolls his eyes, and I take a tiny sip, knowing from past experience that I don't really like Scotch. Turns out I don't like the $500 one either, and I hand it back to him with a little shrug.

"Want anything?" he asks. "Wine?"

"I'm good."

Actually, water would be great right about now. Between the hot look in his eyes and the heat of the fire, I'm a bit, um, parched.

"What are you reading?" I ask.

He groans. "Not this again. I know we're stuck with each other, but do we have to do the get-to-know-each-other chat? Can't we just sit in silence?"

The way he says stuck with each other gives me pause. I know why I'm sticking this out, but why is he? From what I've heard from Lindy and what I inferred from his father, Paul has no qualms about driving people away.

Is he treating me differently? Or just biding his time until he figures out how to add me to his list of banished caretakers?

I really, really want it to be the first one.
Lauren Layne graduated from Santa Clara University with a B.S. in political science that she has yet to put to good use. After dabbling in an e-commerce career in Seattle and Southern California, Layne moved to New York City, where she now writes full-time. She lives with her husband and their plus-size pomeranian in a tiny Manhattan studio.