Love is a wild ride.

After enduring months of torture at the hands of the Black Jacks MC, and betrayed by his own club, Holt "T-Rex" Savage, a junior member of the Sinner's Tribe Motorcycle Club, will stop at nothing to get revenge. But falling for a beautiful woman with dangerous ties to his sworn enemy was never part of the plan…

Raised by the Black Jacks, Naiya Kelly grew up fast, furiously, and with little to lose. But now that she's put her MC days behind her, she is free to do what she wants—until she meets a man who imprisons her, body and soul. She swore she'd never give her heart to a biker, but Holt is the most passionate, protective man she's ever known. But will Holt be forced to betray his one true love to exact his revenge?
Buy Links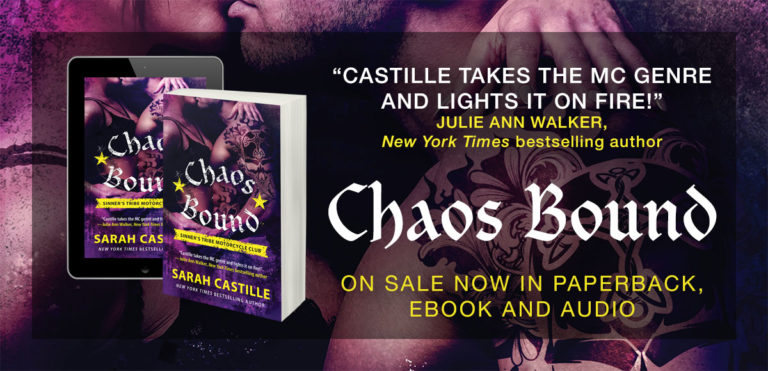 Kindle | Nook | Kobo | iBooks | Google Play

Order Paperback: Amazon US | Amazon UK | Barnes & Noble
Chapters Indigo | Book Depository | Books-A-Million | IndieBound
Revenge had given him the will to live. Revenge against Viper and the Jacks. Revenge against Jagger and the Sinner's Tribe. Once he was free, his wrath would know no bounds.
At long last we get T-Rex's story. I can't even tell you how excited I was when I got my hands on this book.  And oh boy what a story it was. Sarah laid everything out on the table to bring us this story filled with so much heat, violence, determination and angst.  Holt (T-Rex) is on a mission for vengeance and when Naiya comes into his life giving him a second chance at freedom there isn't anything that will stand in his way from getting what he wants. 
This story has so much going on.  The Sinner's believe Holt is dead. Holt believes the Sinner's abandoned him to Viper's dungeon where he was mercilessly tortured, starved and beaten. A great thing about this story is we also get some of Tank's pov. Tank had kept on hoping that his best friend, his brother was still alive. He never wanted to believe what he was told about his friend being dead. Seeing how much T-Rex's absence affected him was heart breaking.
Holt and Naiya's story is a long one, and it's not always pretty. Both of these characters have been put through hell. Viper has left them broken. They are wounded and there is danger at every turn. Holt is not the same man that got captured by Viper.   This man is broken in many ways yet stronger than he ever was. His outlook is different and his passion for the club has been shaken. The only thing he knows for sure is wanting revenge, protecting his woman and having his best friends back.
He had a woman to protect. A predator to lure.
A Viper to kill.
Once again this author has given us a strong female heroine that we could respect.  I really loved that Naiya didn't cower, cry or run when the going got tough and she wasn't afraid to use her mouth. She refused to follow in her mother's footsteps. I loved how much she grounded Holt and gave him new purpose.  The connection and desire between these characters is strongly felt on every page. There is no doubting Holt's confusion and struggles while he comes to terms with how his brothers really reacted after he was taken.  And there is no question how much Naiya and Holt need each other. 
The thing I love the most is how hard, gritty, violent and tough the Sinner's can be, but even in the face of some of the most diabolical things I've ever read in a story, the men have this soft side when it comes to woman. I love how much they respect them, protect them and treat them well.  I will say it's been 4 books now and I say this every time, but I really HATE Viper. The more I learn of him the more I just wish I could take him out myself. He is so vile and disgusting.   This story that is filled with so much passion and emotion was engaging and I was invested the whole way through.  And OMG the angst near the end. Well played Sarah, well played! This is a must read for anyone who is a fan of this series.  
About The Author
New York Times and USA Today Bestselling author, Sarah Castille, writes contemporary erotic romance and romantic suspense featuring blazingly hot alpha heroes and the women who tame them. A recovering lawyer and caffeine addict, she worked and traveled abroad before trading her briefcase and stilettos for a handful of magic beans and a home near the Canadian Rockies.