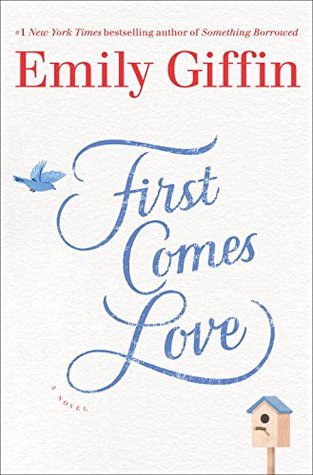 In this dazzling new novel, Emily Giffin, the #1 New York Times bestselling author of Something Borrowed, Where We Belong, and The One & Only introduces a pair of sisters who find themselves at a crossroads.

Growing up, Josie and Meredith Garland shared a loving, if sometimes contentious relationship. Josie was impulsive, spirited, and outgoing; Meredith hardworking, thoughtful, and reserved. When tragedy strikes their family, their different responses to the event splinter their delicate bond.

Fifteen years later, Josie and Meredith are in their late thirties, following very different paths. Josie, a first grade teacher, is single—and this close to swearing off dating for good. What she wants more than the right guy, however, is to become a mother—a feeling that is heightened when her ex-boyfriend's daughter ends up in her class. Determined to have the future she's always wanted, Josie decides to take matters into her own hands.

On the outside, Meredith is the model daughter with the perfect life. A successful attorney, she's married to a wonderful man, and together they're raising a beautiful four-year-old daughter. Yet lately, Meredith feels dissatisfied and restless, secretly wondering if she chose the life that was expected of her rather than the one she truly desired.

As the anniversary of their tragedy looms and painful secrets from the past begin to surface, Josie and Meredith must not only confront the issues that divide them, but also come to terms with their own choices. In their journey toward understanding and forgiveness, both sisters discover they need each other more than they knew . . . and that in the recipe for true happiness, love always comes first.

Emotionally honest and utterly enthralling, First Comes Love is a story about family, friendship, and the courage to follow your own heart—wherever that may lead.
Buy Links
4.5 Amazingly Written Stars!!!!
This book was way more than I expected and I was sad to see it end. I wanted to know what happens next. From the very beginning I became connected to all the characters in this story. That is not to say that some of them did not piss me off several times especially Meredith. Towards the end of this book I really started to dislike her character. I felt she was selfish and didn't care about the sacrifices others made. I really felt sorry for her husband Nolan. I felt that Meredith and Josie should have the others life. It was like the life they chose was not the right life for them. It would have been better if Josie would of married Nolan and Meredith was the one in her late thirties still out there dating and looking for Mr. Right.
I loved the relationship that Josie and Gabe had. Some parts of the story I was really rooting for them. I also fell for Pete too and my feelings went back and forth on whom she should chose for her baby daddy. The chemistry between Josie and Gabe was fantastic and so was the banter that went on.  The death of their brother Daniel changed the family dynamics and also put false ideas as to what the family would have been like if he had not died.
This book was on point and nothing was rushed and I never felt like skimming chapters. I fell hard for these characters and was glued to my reading device from start to finish. The story was told perfectly and you could not help but connect to the characters and feel like you were on this journey with them. I am really hoping the author has plans for a second book. I would love to know what happens next. I felt like this is no way near the end of this story. I need closure.
  "I know by now that you can't control your life, no matter how hard you try. That inevitably people leave and disappoint and die. But there is one constant, one thing you can always count on: that not only dies love come first, but in the end, it is the only thing that remains."
About The Author
Emily Giffin is a graduate of Wake Forest University and the University of Virginia School of Law. After practicing litigation at a Manhattan firm for several years, she moved to London to write full time. The author of seven New York Times bestselling novels, The One & Only, Something Borrowed, Something Blue, Baby Proof, Love The One You're With, Heart of the Matter, and Where We Belong, she lives in Atlanta with her husband and three children.