Book: Harmony
Series: The Club Girl Diaries #1
Author: Addison Jane
Genre: MC Romance
Release Date: 30th May 2015
Cover Design:Cover to Cover Designs
Hosted By:Francessca's Romance Reviews
Synopsis:
Harmony makes no excuses for who she is or what she's done. For the past few years she's been living as a club girl for the Brothers by Blood MC. The club girls are there for a purpose – to cook, to clean and to keep the men happy. She respects the club, respects the men and she follows the rules. Watching the men walk in and out of her life is strangely comforting, and a feeling she's grown accustomed to. With a history of disappointments and false promises, all she wants is to have fun, play music and finish college. Being associated with the club, she can do that without having to risk her heart. That was until he showed up.
When Kit's father stepped down as president, he took the title with pride. The Brothers by Blood MC is his family, his home. Deciding to celebrate his new title with his brothers from a neighbouring chapter, the last thing he expected was to find Harmony – a club girl with all the makings of a perfect old lady. The stunning blonde is beautiful, strong and fiercely independent. Harmony refuses to lower the walls she's created around her heart, but the fire inside her and her love for the club fuel his need to have her by his side, and on the back of his bike.
When Harmony's safety is threatened, Kit is determined to do whatever it takes to protect her and prove that she can trust him. But after a lifetime of broken promises, will it be enough?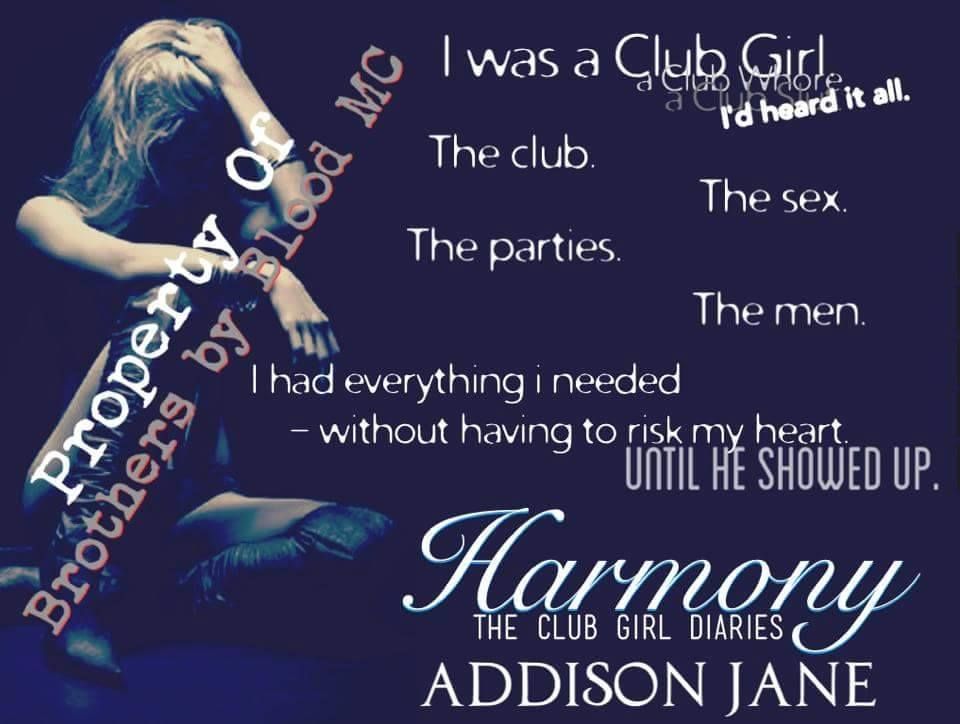 This was a great start to an MC series. Harmony is the first book in the Brothers by Blood MC Series. I have not read the author's previous work but after reading this book I will definitely be reading more from her. I love a good MC book and lately I've found it hard to find one that has all the elements that I love in them, but Harmony has it! The author does not skimp on the sex, alcohol, partying and the dangerous and dark side of an MC. She also throws in a super uber alpha president and brothers that will protect what they feel belongs to them and the club. Harmony is told by alternate POV's and the author does an amazing job in bringing out the characters thoughts, needs, feelings and desires. I started Harmony at lunch time thinking I could pick up when I got home, but that did not happen. WHY DID THAT NOT HAPPEN – I will tell you why, because it was THAT GOOD I could not put it down!
Harmony is a club girl. She makes no excuses for her title in the Brothers by Blood MC. She is happy with her role and position with in the club even though being a club girl means taking care of the club and the men's needs. I love Harmony. She is strong, independent, smart, a fighter and loyal to the club. She is able to attend college because of her lifestyle. She loves music and hopes to get a bachelor's in the art of music. Since she was little, she has always been around music. Her mother being the manager of her brother's band and being on the road with them has helped her cope with a lot of disappointments. Because of her life on the road, she knows, men do not stick around, they eventually move on and never look back. She was ok with that until Kit walked into her club.
"Men take what that want and then they walk away. It's what I know. It's what I've always known."
"You been hurt before? Had your heart broken? MY claim still stands. While you're with me you don't touch the other men."
Kit recently has become the president of a chapter of the Brothers Blood MC after his father stepped down. Kit is honored to wear the patch of President for his club. While celebrating his new title with the chapter he sees Harmony. Harmony is beautiful, strong and severely independent. She is a woman that would make a great Old Lady.
Kit, god he is EVERYTHING ANY WOMAN WANTS. He is a proud man, gorgeous and knows what he wants. He sees something in Harmony that is different. He can tell she is special, the prefect woman to stand by his side. He is dominant in all things and when it comes to Harmony that dominance lays claim to her within a couple of hours. He does not give up his fight to have Harmony. He's patient and is willing to give her the world and keep her safe.
"I needed to know you were only mine before I took you. If I'd treated you like a club girl before that happened, that's all you would have seen me as, another man using your body. I don't just want your body. I want every damn piece of you."
Kit never cared about fighting for what he wanted before but Harmony is worth it. Kit is a man of swift action. When Harmony is in danger he takes his claim seriously. He will not break his promise to protect her. That promise is one that will break him down when he is unable to protect her more than once. Kit will not only have to fight the enemy but he will also have to fight to gain Harmony's trust. There are ruthless men out to take Harmony and tear the trust and loyalty for the brother's in the Blood Mc apart.
"Still confused?
"A little
"I refuse to treat you like a club whore, Harmony. Because you're more than that."
 I loved this story. The author does an amazing job writing this story. Harmony is a book about love, really hot sex, and with the right amount of suspense that will keep readers on the edge of their seats. I was so captivated and intrigued while reading this. I loved seeing how Kit and Harmony discover a love and relationship that is natural, honest and strong. It was really beautiful to read. The ending of the Harmony was genius. There is so much more to learn and much more to come, I cannot wait to get my hands on the next book in this series.
Purchase Links
Trailer
About the Author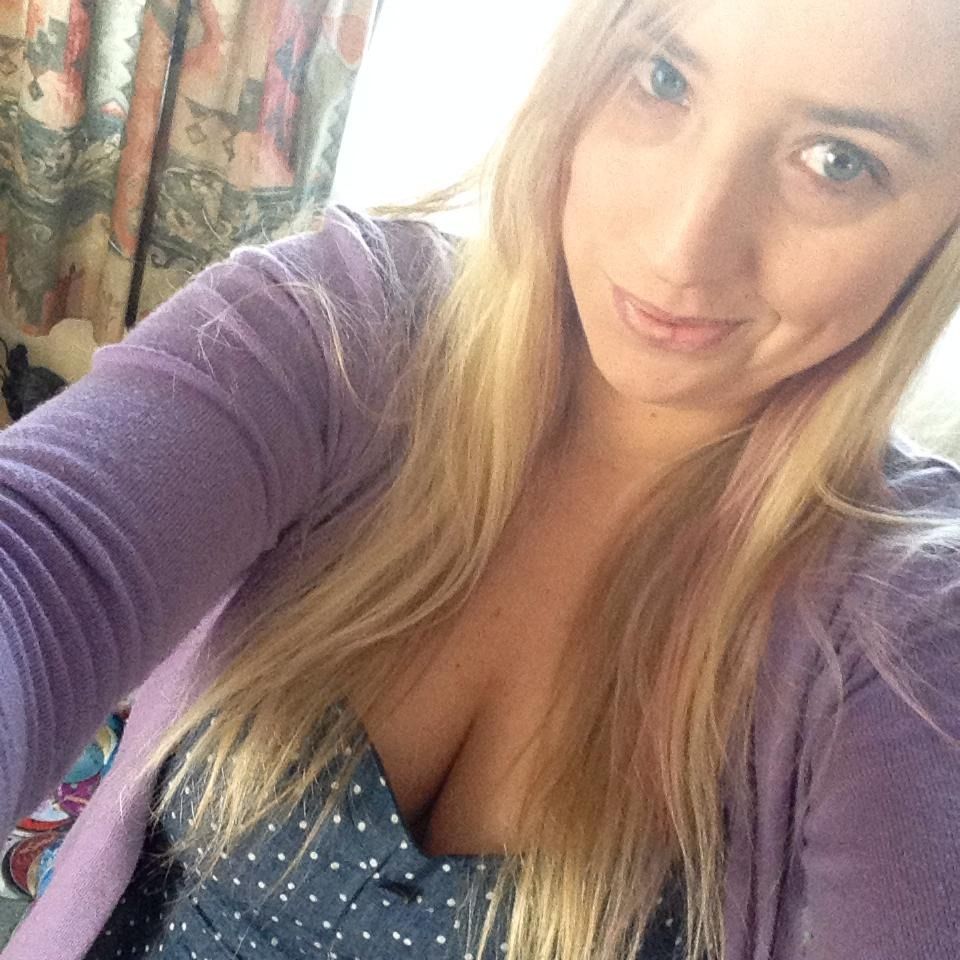 Hi! I am Addison Jane!
I come from a small country called New Zealand.
I have always had a strong love for reading and writing and Missing Link, whilst not the first story I have written, is the first I will be releasing.
My favourite genre is romance, specifically MC, rockstar and young adult.
I'm a single parent to a beautiful little girl, we live in a quiet little town and I have a small but amazing group of close friends.
My other passion in life is working with kids! I work with them part time along with going to school to complete my graduate diploma.
I am fortunate enough to have a great support base, whom without them, I would never have stepped out of my comfort zone and pushed myself to share my writing with you all!
Stalkers Links