"What lies beneath my veiled perfection is the ugly truth—my truth, my reality, my destiny."
Vivian Graham has an acceptance letter into Harvard, a badass tattoo, loyal friends, ties to marijuana, a penchant for Dunkin' Donuts, and her pesky V-card.
Everyday she takes the Red Line to her job at The Green Pot in Boston while her friends enter the coveted, black iron gates to higher learning. The ramifications from a tragic accident have put her life on hold while time marches on for everyone around her.
After graduating from Harvard Law, Boston native, Oliver Konrad, moves to Portland to start his career and his life. Three years later, after a horrific discovery, he returns home to trade in his three-piece suit for leather work boots and his suburban home for a condo in Cambridge.
All he brought back to the East Coast was an aversion to pillows and secrets he keeps hidden behind a mysterious locked door. Oliver's days are predictable and his nights are lonely until he meets Vivian on the subway. Her long raven hair, green eyes, and mile-long legs are achingly sexy, but the way she "innocently" fingers and licks her Boston Kreme doughnut can only be described in two words—complete torture.
When their paths cross at every turn, laughter is abundant, friendship is easy, and love is unintentional. However, their future seems improbable.
*This book contains adult situations and explicit content, 17+
News flash: This book is AWESOME
Vivian Graham and Oliver Konrad ride the same train to work each day. Vivian has been eying Oliver for a solid week, fantasizing about what he looks like under his tight t-shirts and jeans.
"My infatuation will go no further than basking in his sexy aura and taking mental pictures to use for my own pleasure."-Vivian
When a Boston Kreme slams these two together, the dance begins. When Oliver shows up at the garden center she works at, fate jumps in and pushes these two together. Both Vivian and Oliver are hiding secrets, Oli's secret just might be too much for Vivian to handle.
"Lost. I'm lost in this moment. I'm lost in every moment, floudering around as one day blurs into the next." – Oliver
Hiding behind the secrets of her past, Vivian's scars make it hard for her to fully open up and let anyone in. Starting things with Oliver, whose own past leaves him broken, proves to be harder then anything her past has handed her. The pull of his lips, his sweet words, and her strong desire to make him hole are too strong, and draws her right into his arms, secrets and all.
~~~~~~~~~~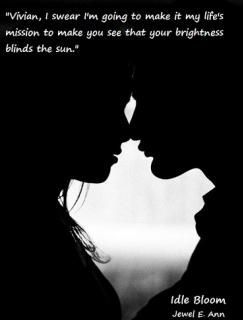 "I see my perfection in his eyes."
That may seem like a simple enough sentence but the emotion behind this book could easily be summed up with those few words.
I absolutely adored this book, everything about it. I have had the pleasure of reading all of Jewel's books, and loved them all, but the storyline and beautiful writing in Idle Bloom moved its way right into my top 5 reads of 2014! The characters are so easy to love, and relate to. The heartbreak of their pasts will invoke so many emotions in you. The tenderness of their love will have you swooning.
"She melts into me as I tease my tongue over the seam of her lips."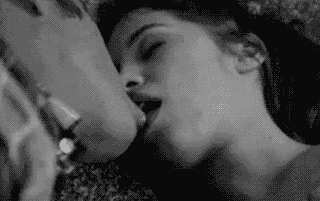 The sex, well HOT is really the only way to describe it. Fantasies definitely come to reality for these two. The thing I love with Jewel's books, is it is never too much, it's always just enough.
"Keeping his eyes on mine, his entire mouth covers my sex and his tongue doesn't stop until I feel completely…satisfied."
This is definitely one of those books that will keep you guessing which makes it hard to put down, because you just have to know. The build up to each of their revelations had my heart beating a little faster, I just could not wait to find out how things would all play out.
Let me just say, I love an Epilogue, I feel every book should have one. I adored how things played out for every single character in this book.
&nbsp
;
Grab this book, and while you are at it, grab all of Jewel's other book, they are all phenomenal.
"I wanted her last breath."
"I don't need panties."

"I disagree," he says with his back to me as he signs for the purchase at the counter. He takes the bag in one hand and grabs my hand with his other. "Shall we?" He leads me out of the store.

"A, I have plenty of panties. B, I told you I don't wear them sometimes because it makes me feel sexy."

He opens my door and sets the bag by my feet after I get in. Then he leans down and brings his face a breath away from mine as his hand slides up my leg. His thumb eases past my shorts. He stops and shakes his head as the pad of it meets my bare sex, no underwear.

My face contorts into a grimacing smile as my shoulders rise into a guilty shrug. He presses his thumb to my now wet center. My mouth relaxes as I suck in a breath and try to close the distance between our lips. He moves his head back just enough to deny me. He grins then moves his thumb a little higher. I moan as he rubs slow circles.

"How do you feel?" he whispers.

"G–good." I grip the side of the seat and let my head fall back.

"What else?"

"Turned … on." I close my eyes.

"What else?"

I tilt my hips up as he works me up so high I fear my own reaction to the impending fall.

"Oli …"

He speeds up, pressing his lips to my neck, and when his teeth graze over my sensitive skin I lose it.

"What. Else?" he whispers in my ear as the blinding sensation rips through me.

"Sexy … I feel … sexy." I try to catch my breath while my head's still spinning.

He kisses me hard then shuts my door.

I hate that I have no self-control to deny him giving me an orgasm while parked with the door open on a public street. Now he's sporting a ridiculously smug grin as he pulls out into traffic.

"What was the point of that?" I break the silence.

"I wanted to prove that I make you feel sexy. Now that you know that, you can start wearing underwear."

"What does it matter if no one else can see that I'm not wearing underwear?"

"First, some of the dresses you wear are awfully short. Second, I know you're not wearing underwear and I don't like walking around saluting everyone I pass."

"Saluting?"

He shoots me a you-know-what-I-mean look.

"Whatever, you're just being weird."

"I'm being a guy."

"That's what I said. You're being weird."
Jewel is a free-spirited romance junkie with a quirky sense of humor.
With 10 years of flossing lectures under her belt, she took early retirement from her dental hygiene career to stay home with her three awesome boys and manage the family business.
After her best friend of nearly 30 years suggested a few books from the Contemporary Romance genre, Jewel was hooked. Devouring two and three books a week but still craving more, she decided to practice sustainable reading, AKA writing.
When she's not donning her cape and saving the planet one tree at a time, she enjoys yoga with friends, good food with family, rock climbing with her kids, watching How I Met Your Mother reruns, and of course…heart-wrenching, tear-jerking, panty-scorching novels.