Title: Lucky Penny
Author: L.A. Cotton
Genre: Contemporary Romance
 Release Date: November 30, 2015
I was his lucky Penny. He was my light in the dark, hope in despair. Our bond was one of survival, friendship… first love.But then we were ripped apart and Blake Weston became the memory I turned to when everything else in my life fell apart.Seven years later, a summer working at Camp Chance is supposed to be my fresh start. Beautiful scenery and the chance to better the lives of foster children–kids like me. But when my eyes land on him across the fire, time stands still and feelings come rushing back to the surface. I thought I'd moved on, tucked him away in my heart. One look into his soulful blue eyes and I know I'm wrong. Blake Weston can heal the broken parts of me. Restore my hope. Love me.
It's our second chance. A sign we are supposed to be together.
Isn't it?
I was twelve when I survived the accident that killed my parents. Fourteen when I survived the devil. And sixteen, when I survived a heartbreak of the worst kind.
But in my twenty-three years, Blake Weston might just be the first thing I won't survive.
Marissa didn't follow me. It was most likely she had pieced together our story after Blake's song. How could she not? It was as if he had weaved our entire relationship into his lyrics. I could feel his sixteen-year-old self singing every line to my sixteen-year-old self. Although, I was pretty certain the sixteen-year-old Blake I'd known then had no clue how to play the guitar.After washing the tearstains from my face, I brushed my teeth. It was still early, but I couldn't face going back out there, so I changed into my shorts and tank top and climbed into bed. Sleep would be impossible, but at least here, I was safe.

Most people felt lonely in solitude, but I welcomed the silence. I embraced it even. Something about the quiet, the knowledge no one else was around, comforted me. I knew it made me different. I didn't need a shrink to tell me that, but it didn't change the fact that I found sanctuary in being alone.

I lay there not really allowing myself to think. Thinking was dangerous; it led to remembering, and my memories were stained with pain and hurt and the kinds of things that made most people's nightmares look like a walk in the park. Instead, I tracked the uneven cabin ceiling. My eyes followed the planes of the wood from one end to the other and back again until they grew heavy.

A knock on the door startled me sending my already restless heart into overdrive and I rubbed at my eyes.

"Hello?" I called out hoping to hear Marissa's voice, but I knew it wasn't her. She wouldn't have knocked; she would have barged right in and demanded answers.

"Penny, it's me."

I squeezed my eyes shut, but my mind betrayed me as an image of Blake's face filled my head.

Another knock.

"Penny."

Forcing myself to sit up, I swung my legs over the edge of the bed. He wasn't going away. Blake—our connection—was something I was going to have to deal with sooner or later, and from Blake's admissions over the last few days, it seemed that he was making the decision for me.

My legs were like lead as I walked to the door. It swung open and Blake stood there looking at me with such reverence in his eyes I almost crumpled. Maybe I did crumple because, before my head had time to process what was happening, I was in Blake's arms, and he was holding on to me like he needed me to breathe.

"I've missed you so much. I've tried to stay away, to give you space, but I can't. I can't spend another day feeling like you might slip through my fingers again."

One of Blake's hands buried itself in my hair and cradled my head holding me to him. My face pressed up against the collar of his hoodie, and I breathed him in. He smelled familiar, like damp grass and fresh air, of a time when things were less complicated, and my heart ached for us. At that moment, we weren't two strangers reunited by chance; we were sixteen-year-old Blake and Penny.

And we needed each other to survive.
"I wanted to give her the moon and the stars and everything between."
When your past is filled with sorrow, moving on is not always easy to do. Penny and Blake can attest to that fact.
When Penny's parents are killed in a car wreck, she is forced into foster care. There she meets Blake, a rough around the edges no non-sense kid who sees the spark in Penny's eyes, even when she doesn't. During their time together, they form a bond that they vow to never have broken. That is until the day Blake is gone, and Penny is left to fend for herself.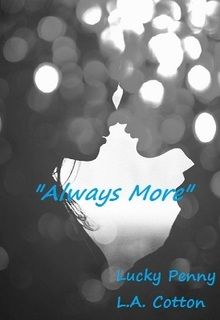 Several years later, Penny and Blake end up as camp counselors at Camp Chance, a summer camp for fostered teenagers. Penny struggles with forgiving Blake for "leaving her", and can't seem to move past the past. In the blink of an eye, again Blake is gone and Penny is left to wonder.
Returning back to normal life, Penny takes a job that puts her in direct contact with Blake once again. This time though, he is not the Blake she has always known. His new life, the side of him she never imagined is almost too much to bear. And so begins the journey for both Penny and Blake to let go of the past and start creating a future.
"I needed her to know that she was my lucky Penny. She always would be."

This book!!!! Everything about this book made my heart break and swoon all at the same time. The characters were written in such a way that they could have been your neighbor or friend. The story line was extremely well written and I felt like I was living in the book the entire time. There were times where I was wiping away the tears and wanting to wrap my arms around Penny and hold her tight. The passion between the main characters were so deep that I was forced to feel the pain for them during the rough times.
I have read everything by this author, she is a definite go to author for me. If you haven't ready anything by her yet, get to it, you will not be disappointed. This book is a great place to start, as this was without a doubt the best I have read from her. She progressively gets better and better with each new story she gives us.
Contemporary romance and romantic suspense
… written with feeling
L.A is author of the Fate's Love Series and Chastity Falls Series. Home is a small town in the middle of England where she currently juggles being a full-time mum to two little people with writing. In her spare time (and when she's not camped out in front of the laptop) you'll most likely find L. A immersed in a book, escaping the chaos that is life.