Caston Black has it all, according to the outside world. The owner of the best-selling gentlemen's magazine, Black Hollywood, has good looks, fame, fortune, and a reputation that precedes him. He can have any woman he wants, as long as he doesn't keep them. Caston sets his sights on Sabrina for his next Hollywood Sweetheart. Little does he know he will find the woman to share his life, the one he is meant to keep forever.
Sabrina Bennett has been in a mentally and physically abusive relationship that has destroyed the beautiful, confident dancer who arrived at college three years ago. She thinks the only good thing left in her life is her abusive boyfriend. Keeping her boyfriend happy is her number one priority, no matter how impossible. She's been broken and molded into a frightened, unsure girl desperate to be worthy of love.
Meeting by chance one evening, sparks fly between Caston and Sabrina. Neither expected the feelings they bring out in each other. Trying to have a normal relationship in their abnormal world is almost impossible, happiness is a new way of life for the lovers. They want to move forward, but the past won't let go.
Can Caston help Sabrina heal from her past abuse? Can Sabrina show Caston he is as strong as he appears to be? When is the price of love too much? What do you do when the biggest threat to the person you love is you?
Warning: This book contains sexual encounters and graphic language that some readers may find objectionable. Contains graphic material that is not suitable for anyone under the age of 18.
**TARA'S REVIEW**

*4 On Pointe Stars*
Ballerina Sabrina Bennett is struggling to deal with the emotions that come from her very turbulent relationship.  She is belittled, mocked, abused and mentally tormented.  At a party, while her boyfriend is demeaning her in front of the frat house party goers, Caston comes to her aid and sweeps her off her feet.  Thus starts a whirlwind romance with amazingly panty dropping sex scenes.
"I was suddenly very thirsty and wondered if he would let me lick him to get refreshed."
Caston Black the owner of a highly popular Mens adult magazine among other sexually related businesses.  Although Caston comes from a very wealthy background, his past and current are very dark.  He has secrets that have always come in the way of his past relationships. He lost his first love because of his crazy "Mother", will he lose Sabrina too?
"How can I explain to her that I did not happen to just run into her."
When Caston sees Sabrina during a performance, he sets his sights on claiming her and making her one of his Black Hollywood Sweethearts.  His heart takes over and he wants much more from her.  Caston wants Sabrina to share in his deep underground world, but is unsure if this sweet innocent ballerina can be broke.
"I could feel myself building to my climax, and I struggled against the restraint of his hands, try to get him to let me go."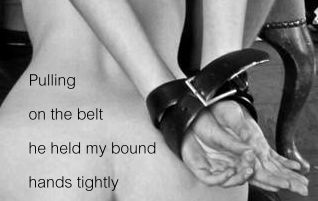 This was a great book.  The story was both heartbreaking and loving all at the same time.  It will tug at all of your emotions and leave your panties soaked.  F.L Jacob did a great job with the storyline and the character development. There is a cliffhanger. I Won't Give Up on You is the follow up to Have I Told You, but at the time of this review there is no release day information.  I can't wait to find out how Sabrina and Caston's love story turns out.
Warning: This book contains abuse and forced sexual situations.
*An ARC was received in exchange for an honest review.*
I am a mommy of two, wife to an amazing man, and full time employee. Life is crazy and my love for reading had fizzled over the years but thanks to a wonderful group of ladies that I met last year I started reading again. Their love for books turned me on to many great writers who I would have never discovered if I hadn't started reading again!
I started writing for them. They brought out my love for writing that I haven't seen in years. Starting this process was tedious and nerve wrecking, but my lovely ladies and my fabulous husband have inspired me to take my love for writing to the next step.