Lexi has always had a reputation for accidentally messing things up, but she never thought she'd be jobless and homeless at twenty-six. With no other choice, she returns to her hometown to do a little life searching.
Lexi quickly discovers a lot has changed in the eight years since she first left Fairville, a quirky little town in the middle of nowhere. Most of her best friends from high school are now married and have children, and her parents have sold their home and are now living in a loft above their store. One thing still remains the same, though. Anders, her old high school crush is still as hot as ever.
Determined to get her life back on track, Lexi starts searching for an apartment and a job. But during a crazy night at one of her friend's bachelorette parties, she wakes up in Las Vegas, hungover and married to Evan, Anders' brother, a guy she barely knows. So much for getting her life back on track.
*an NA Romantic Comedy – This story takes place over multiple parts. Each part is approximately 20,000 words.
5 Fan-flipping-tastic Stars!!!!!
Another fantastic start to a new series. I loved everything about this book. There are a few things you know for sure when you begin reading a book by Author Jessica Sorensen.
The writing will be fantastic

You will be hooked to your reading device from start to finish

You are in for some serious angst

When you get to the killer ending she is known for you will be wanting to hunt her down and beat her with her own book.
This book had me hooked as soon as I started it. I loved the writing and every single character in this book was not only funny but made this book                fan-flipping-tastic!!!!!
The main character Lexi Ashford was perfect. I loved that she had no filter and no matter what she did she always ended up getting herself into some sort of trouble. She was quirky but yet you really understood her.
" He gives me the death glare. "Who said I ever wanted to wear glitter?" "Oh, come on, almost every guy has thought about it at least once." He stares at me blankly. " I can promise you I've never, ever thought about putting glitter on my body."
Her parents were hysterical and the chemistry between all the characters was great!!!!
"I know it's a not big," my mom says, her first place ribbon still pinned proudly to her side-tied shirt." But once the lights are off, it doesn't see as small." That's what he said." I heave a sigh, setting my bad down on the floor. Man, I'm making dirty jokes with my parents. I mus be losing my damn marbles."
I felt like I was there along side Lexi the whole book. The author just has a way of pulling you in and making you feel like you are experiencing everything too. I am not going to go into the plot of the story. The only thing I will say is that I LOVED IT!!!!! I read this book with a huge smile on my face and was laughing my ass off many times. I cannot wait for the next book in this series.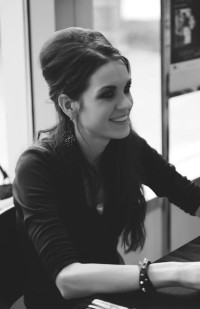 Jessica Sorensen is a New York Times and USA Today bestselling author from the snowy mountains of Wyoming. When she's not writing, she spends her time reading and hanging out with her family.