*****#1 Best Seller in Amazon Inspirational Romance*****
Death.
For some, it's simply one of life's certainties, nothing more. For others, it's merely a fleeting thought, one often overshadowed by the reckless delusion that they have been blessed with the gift of immortality.
For Aubrey Miller, death is the definition of her very existence. Overcome with the guilt resulting from the loss of her beloved family, she alters her appearance from the once beautiful, blonde-haired, blue-eyed little girl to that of one shrouded in complete darkness, enveloping herself in her own unbreakable fortress of solitude as a form of protection for others.
As she enters her first year of college, her goal is simple: Earn a degree with the least amount of social interaction as possible. What she never anticipates is the formation of very unlikely relationships with two people who will change her life in ways she never believed possible: Quinn Matthews, the boisterous former pageant queen, and Kaeleb McMadden, a childhood friend from her past who never really let her go.
Over the years, as their connections intertwine and grow, a seemingly indestructible bond is formed between the three…
But when death painfully reemerges, Aubrey is lost once again, burying herself deeper than ever before inside the familiar fortification of her fears.
Will the refuge of friendship, the solidarity of life-long bonds, and the power of unconditional love be enough to do the impossible?
Will they be enough to finally bring about…
The Resurrection of Aubrey Miller?
****Standalone NA Contemporary Romance/HEA****
****WARNING – Due to the graphic nature of some scenes, this book is intended for mature audiences only. Contains adult language and themes.****

Death surrounds Aubrey Miller, by the age of 8 she has lost everyone important to her. Trying to run away from the memories of her past, Aubrey transforms herself into Raven. She changes herself into someone no one would want to be around in an effort to construct a wall around herself to keep everyone away.
When Raven heads off to college, she is roomed with her polar opposite, Quinn, is the epitome of beauty queen right down to her shiny tiara. When Quinn and her "boarding buddy" Kaeleb persist on getting to know Raven, her walls will be knocked down little by little.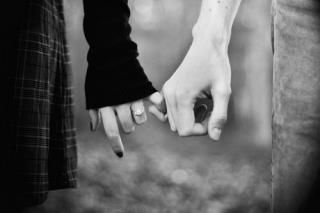 Aubrey starts to reemerge, and everything in her life seems to be going wonderfully until several situations send Aubrey spiraling backwards and Raven reclaims her life.
~~~~~~~~~~
There was nothing about this book that I did not enjoy. I was engrossed from the start and could not wait to see where everything would go. I loved loved loved Kaeleb, like hard. His love for Aubrey was so heartfelt. I just wanted to reach in my kindle and snuggle with him. There were times when I just wanted to slap Aubrey and tell her to

but I could relate to her struggle. Her life did not start out easy and it was heartbreaking what she had to endure. I could relate to her inability to realize all the good around her, and all the people that had absolute love for her.
The storyline of the book was very original, and the ease in which it all flowed was extremely well written. The characters well developed. The only thing I wished is that there was more. I wanted a longer more detailed epilogue, where things went longer down the road(for selfish reasons).
Overall, I really enjoyed this book, this will not be the last I seek out from this author.

L.B. Simmons is a graduate of Texas A&M University and holds a degree in Biomedical Science.  She has been a practicing Chemist for the last 11 years.  She lives with her husband and three daughters in Texas and writes every chance she gets.